William Mitchell & Joseph Gillott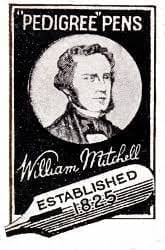 The William Mitchell heritage in making pen nibs began whilst working with his brother John Mitchell in the early 1820s. William Mitchell established his own business in 1825 to become one of the leading nib manufacturers and famous for lettering pens. Almost 100 years later William Mitchell merged with Hinks, Wells & Co another pen manufacturer to form British Pens employing 1000 people in the Bearwood Road area of Birmingham.
During the 1960s British Pens acquired the pen business of other manufacturers Perry & Co and John Mitchell once again reuniting the two brothers. Joseph Gillott who were famous for their artist drawing and mapping nibs amalgamated with British Pens in 1969. British Pens were subsequently purchased by its current owner Byron Head the owner of William Mitchell (Sinkers) in 1982 and was subsequently renamed William Mitchell(Calligraphy) Ltd.