Speedball B Style Nibs
The B-Series nib made its debut in the 2nd edition of The Speedball Textbook®, in 1916.  Like the A-Series, the B-Series has a bent end to form a "shoe" that can easily produce a uniform width line.  Unlike its counterpart, the Speedball B-Series nib has a rounded finish that makes it ideal for creating sans serif letters without thick and thin lines.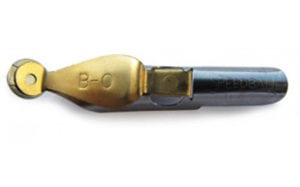 Available in (8) nib widths, the B-Series is perfect for creating a variety of monoline lettering, drawn letters (e.g. Versals) and "built-up" letters, such as the Double Stroke Poster Roman.  Suitable for use with any straight/classic style penholder.