Copperplate Calligraphy
Copperplate
Copperplate is a general term for a family of styles which grew out of classic italic in the 17th and 18th centuries. Spencerian, a similar lettering style, developed in North America and by 1860 was taught as standard handwriting in schools. Copperplate and Spencerian are among the most elegant of hands. They are different from other calligraphy styles as they use pressure to produce lines of varying width.The use of an oblique nib, or straight nibs in an oblique penholder, enable the writer to keep the nib pointed in the direction of the slant while maintaining a comfortable writing position. Use of the oblique penholder means a variety of nibs can be used.
Copperplate Sampler
Illustration from the Speedball Textbook 23rd Edition and shows use of the Speedball Oblique Penholder.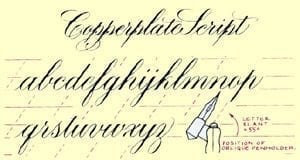 How to choose Copperplate nibs
Copperplate Pen Holder : The rules of calligraphy are always broken by somebody (often with great success) but general guidance for beginners would be:Right-handed calligraphers – use an oblique pen holder as this helps to hold the pen at the correct angle for copperplate writing and also gives you a wide choice of nibs; Or a straight penholder with the Mitchell Copperplate nib (though this choice restricts you to this single nib).Left-handed use a straight penholder because your arm and hand are already at (or near) the correct angle.
Copperplate nibs There is no 'best nib' for Copperplate or Spencerian writing. I normally advise beginners to buy a selection of nibs to try as the most suitable nib for any individual is a very personal choice. All the flexible nibs suitable for Copperplate vary in their size, flexibility and strength (pressure required). One person's favourite nib might be unsuitable for someone else. One unbreakable rule is to be ruthless is discarding nibs that have begun to wear as they will never again produce the fine hairlines that distinguish this style of writing.
Copperplate Lessons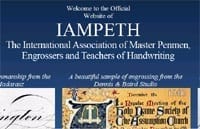 Showing 1–12 of 17 results
Showing 1–12 of 17 results