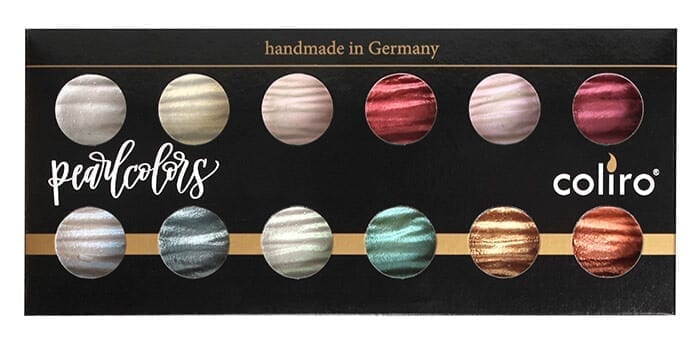 Watercolour calligraphy involves writing in calligraphy using watercolours such as from Finetec and a round paintbrush with a pointed tip. With a wide range of Finetec colours available, you'll be on your way to creating masterpieces.
You can hone the calligraphy artist in you by experimenting with watercolours and using them to create gorgeous hand lettering pieces with watercolour borders, backdrops, splatters, and more.
This will be a purchase you'll not regret!
You can try your hand at lettering (pun intended) by ordering a Finetec watercolour set that has helped skilled calligraphers create beautiful pieces for years. Now, it's your turn to show your talent, so start things right by getting a Finetec calligraphy set for hand lettering.
Hand Lettering— Let Your Hand Do the Talking
Hand lettering uses letters to create stunning works of art and design. Unlike the conventional form of writing, hand lettering demands discipline and skill— both you can develop with time with practice.
Since watercolour calligraphy is a meticulous process, no ordinary store-bought watercolours will do the job. The only watercolours we can confidently vouch for are from Finetec.
Finetec Colours: Surpassing the Competition
Finetec watercolours have become a favourite of calligraphy artists since they came on the market in 2006. The German company Coliro's high-quality Pearl watercolours remain unrivalled. They have come out with several calligraphy sets over the years. You look through them to find one that works for you. Here's a list of sets you'll find on Blots Pens:
Finetec Calligraphy Sets
Candy Set
Silk Set
Galaxy Set
Earth Set
Ocean Set
Rainbow Set
Vintage Set
Mixed Set
You can choose a calligraphy set based on the colours you want to use for hand lettering and background. If you run out of one colour, you can order an individual colour to replace it. Trust us, once you start using Finetec watercolours, you'll never want to use any other watercolours again!
6 Reasons Why Finetec Colours Are the Best
Finetec colours have become a household name among both experienced and novice calligraphers. If you aspire to become a calligraphy artist and succeed at hand lettering and design, investing in the right watercolours can make all the difference in the world.
Here's why you need a Finetec calligraphy set to create spectacular artworks:
Rich and Creamy Colours
You buy pearlescent watercolours, only to discover they are uneven, patchy, and transparent on paper. However, that won't be the case with Finetec's collection of watercolours. They are thick, creamy, rich, and opaque— all defining qualities of premium watercolours.
Another issue you'll encounter with ordinary watercolours is the need to apply several layers to achieve dense opacity. Not only will you not get dense opacity, but you'll also run out of that colour more quickly. With Finetec watercolours, that's a problem you won't face.
Range of Colours
Previously, we told you about the eight calligraphy sets you can buy. So, this should give you an idea of the large selection of palette options you can invest in to show off your calligraphy art. If you don't want to buy a palette or want to buy different colours, but they aren't in the same calligraphy set, you have the option to buy individual colours.
If you run out of your favourite colour to use from your watercolour palette, order a single colour to refill that shade. It's very convenient, as there's no need to buy the same entire watercolour palette again.
Multi-purpose Colours
Did you think you could only use Finetec colours for hand lettering and nib calligraphy? You would be pleased to know that you can use these amazing watercolours for so much more. You can create entire backdrops and patterns using them. You can also experiment with different shades to get new shades.
Worth the Money
Are they a little expensive? — yes. Do they last a long time? — Definitely! Ask yourself: "Would I want to buy cheap watercolours that don't last or slightly expensive and high-end watercolours that can last more than a year?"
It's safe to say that you would go with the second option! Because repeated buying of the same low-quality product will only end up costing you more instead of buying a high-quality and long-lasting product.
Customise Watercolour Palettes
You can create your own calligraphy set using your favourite watercolours. You can buy a replacement box with six empty compartments. You can buy individual refill colours to create a watercolour palette that suits your lettering needs. The watercolour will click in place and you're ready to go!
If you own several readymade palettes and don't want the hassle of opening this and that palette, buy an empty replacement box, and since they are easy to remove, you can place the shades you're using in one palette.
Zero Transferability
When the glittery and shimmery paints get on your skin, clothes, and surroundings, it can take forever to remove them. Finetec colours have solved this problem. They have created watercolours that will not transfer to you or other things. You can test this! Swipe your finger across the dry shade, rub it on something else, and voila! No transfer. No mess.
Whether you're are an experienced calligrapher or just starting out, you want to ensure you only buy and use the best watercolours for hand lettering and backgrounds.
By far, Finetec watercolours reign supreme in the watercolour calligraphy market.
Another way you can use watercolours is to create stunning splatters, borders, floral patterns, and more. You can use a calligraphy pen for lettering, let it dry, and then use watercolours to create a beautiful backdrop and designs to enhance your art.
If you're looking to buy Finetec colours, we're glad you found us! Blots Pens offers a large variety of Finetec watercolours. Start your watercolour calligraphy journey with us by buying all the essential items you need for hand lettering such as dip pens and nibs and calligraphy paper. Unleash the calligraphy artist in you today!